2 March 2017, dusan
Filed under
magazine
| Tags: ·
activism
,
hacking
,
hacktivism
,
information warfare
,
leaking
,
politics
,
security
"Hardly a day passes without news of a major hack, leak, or breach; with the scale of computer use and reliance on digital forms of data, no sector of society is immune to these data dumps, infiltrations, and floods. From the surveillance of dissidents to the hacking of elections to the weaponization of memes, hacking is changing in character, and it is changing the world. In this issue we ask whether hacking and hacks have crossed a techno-political threshold: how are hacks, leaks and breaches transforming our world, creating new collectives, and changing our understanding of security and politics. How has the relationship of hacking and hackers to their own collectives, to governments, and to the tools and techniques been transformed recently? What does it mean to be a hacker these days, and how does it differ from engineering, from "cyber-security," from information warfare or from hacktivism?"
Contributors: Claudio Guanieri, Nils Gilman, Jesse Goldhammer, Steve Weber, Finn Brunton, Matthew Jones, Molly Sauter, Rebecca Slayton, Matthew Goerzen, Adam Fish, Luca Follis, Mustafa Al-Bassam, Sarah Tochetti, Paula Bialski, E. Gabriella Coleman, Robert Tynes, Philip Di Salvo, Sarah Myers West, Ashley Gorham, Joan Donovan, Goetz Bachmann, Tor Ekeland, David Murakami-Wood, Kim Zetter. With science fiction by Cory Doctorow.
Edited by E. Gabriella Coleman and Christopher M. Kelty
Published Feb-Mar 2017
Creative Commons BY-SA 3.0 Unported License
HTML (updated on 2019-7-8)
Comment (0)
4 December 2016, dusan
Filed under
book
| Tags: ·
3d printing
,
activism
,
additivism
,
art
,
design
,
hacking
,
plastic
"The 3D Additivist Cookbook is a compendium of imaginative, provocative works from over 100 artists, activists and theorists.
The accompanying 3D Additivist Archive contains 3D .obj and .stl files, critical texts, templates, recipes, (im)practical designs and methodologies for living in this most contradictory of times."
Publisher Institute of Network Cultures, Amsterdam, 4 Dec 2016
Creative Commons BY-NC-SA 4.0 International License
ISBN 9789492302106
[356] pages
Cookbook: PDF, PDF, IA, Scribd (460 MB)
Archive: torrent, magnet (6 GB)
Comment (1)
31 March 2016, dusan
Filed under
book
| Tags: ·
code
,
copyright
,
hacking
,
hacktivism
,
intellectual property
,
internet
,
internet activism
,
open access
,
web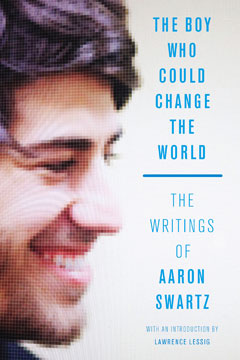 "The writings of the computer genius and Internet hacktivist whose tragic suicide shook the world
In January 2013, Aaron Swartz, under arrest and threatened with thirty-five years' imprisonment, committed suicide. He was twenty-six. But in his short life he had changed the world: reshaping the Internet, questioning our assumptions about intellectual property, and creating some of the tools we use in our daily online lives. He was also a leading critic of the politics of the Web.
In this collection of his writings that spans over a decade, Swartz displays his passion for and in-depth knowledge of intellectual property, copyright, and the architecture of the Internet. The Boy Who Could Change the World contains the life's work of one of the most original minds of our time."
With an Introduction by Lawrence Lessig
Publisher The New Press, New York/London, 2015
ISBN 162097066X, 9781620970669
368 pages
See also MIT prosecution report.
Comment (0)