27 November 2016, dusan
Filed under
book
| Tags: ·
archive
,
media
,
media archeology
,
memory
,
sociology
,
software
,
technology
"Sociology has long had approaches to describing the ways in which social memory is enacted through ritual, language, art, architecture, and institutions—phenomena whose persistence over time and capacity for a shared storage of the past was set in contrast to fleeting individual memory. But the question of how new media changes that equation is very much up in the air—how, in the age of digital computing, instant updating, and interconnection in real time, is social memory created and enacted? This collection offers a set of essays that discuss the new technology of memory from a variety of perspectives that explicitly investigate their impact on the very concept of the social."
Contributors: David Berry, Ina Blom, Wolfgang Ernst, Matthew Fuller, Andrew Goffey, Liv Hausken, Yuk Hui, Trond Lundemo, Adrian Mackenzie, Sónia Matos, Richard Mills, Jussi Parikka, Eivind Røssaak, Stuart Sharples, Tiziana Terranova, Pasi Väliaho.
Publisher University of Amsterdam Press, 2016
Recursions series
Creative Commons BY-NC-ND 3.0 License
ISBN 9789462982147, 9462982147
332 pages
Review: Jan Baetens (Leonardo, 2017).
Comment (0)
24 August 2015, dusan
Filed under
book
| Tags: ·
anthropology
,
iconography
,
image
,
imagination
,
memory
,
ritual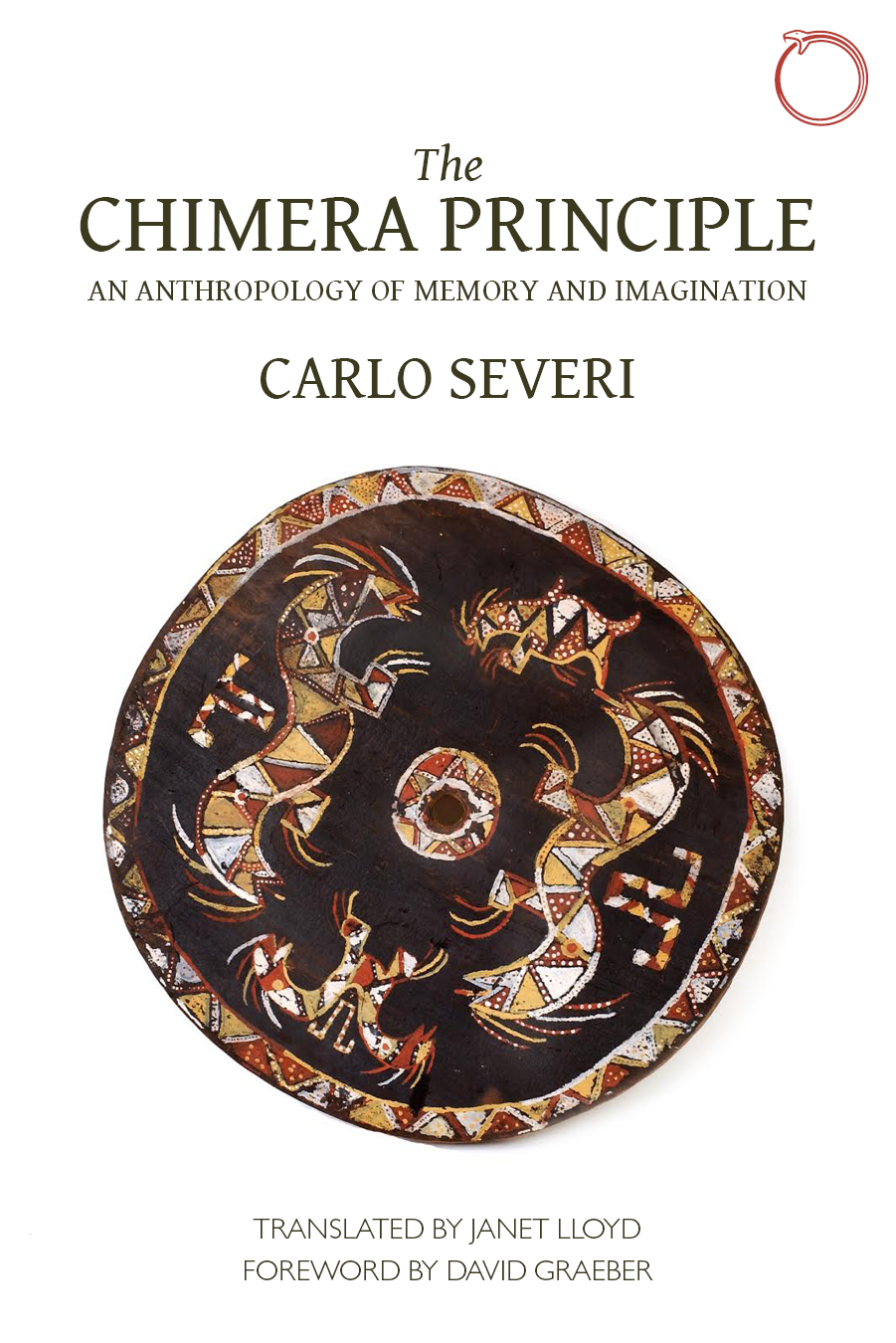 "Anthropologist Carlo Severi's The Chimera Principle breaks new theoretical ground for the study of ritual, iconographic technologies, and oral traditions among non-literate peoples. Setting himself against a tradition that has long seen the memory of people "without writing"—which relies on such ephemeral records as ornaments, body painting, and masks—as fundamentally disordered or doomed to failure, he argues strenuously that ritual actions in these societies pragmatically produce religious meaning and that they demonstrate what he calls a "chimeric" imagination.
Deploying philosophical and ethnographic theory, Severi unfolds new approaches to research in the anthropology of ritual and memory, ultimately building a new theory of imagination and an original anthropology of thought."
First published as Le Principe de la chimère: Une anthropologie de la mémoire, Éditions Rue d'Ulm, 2007.
Translated by Janet Lloyd
Foreword by David Graeber
Publisher HAU Books, Chicago, 2015
Open access
ISBN 0990505057, 9780990505051
xxxiv+362 pages
Reviews: Stéphanie Leclerc-Caffarel (Gradhiva, 2010, FR), César Carrillo Trueba (Cuicuilco, 2008, ES), André Demarchi (Mana, 2009, BR-PT).
Comment (0)
18 August 2015, dusan
Filed under
book
| Tags: ·
1930s
,
avant-garde
,
biography
,
history
,
history of literature
,
literature
,
memory
,
poetry
,
politics
,
russia
,
soviet union
,
totalitarianism
"Nadezhda Mandelstam's memoir of her life with poet Osip, who was first arrested in 1934 and died in Stalin's Great Purge of 1937-38. The book is a vital eyewitness account of Stalin's Soviet Union and one of the greatest testaments to the value of literature and imaginative freedom ever written."
Publisher Chekhov Publishing Corp., New York, 1970
432 pages
English edition
Translated by Max Hayward
With an Introduction by Clarence Brown
Publisher Atheneum, New York, 1970
Fifth printing, 1983
ISBN 0689705301
xvi+432 pages
Reviews: George Ivask (Slavic Review, 1971), Simon Karlinsky (Slavic and East European Journal, 1971), Robert P. Hughes (Russian Review, 1971), Seamus Heaney (London Review of Books, 1981), Elaine Feinstein (The Independent, 2013).
Commentary: Judith Robey (Slavic and East European Journal, 1998).
Vospominaniya (Russian, 1970/1999, TXT; HTML)
Hope Against Hope (English, 1970/1983, PDF/42 MB; DJVU/7 MB)
Comment (0)