21 March 2009, pht
Filed under
book
| Tags: ·
body
,
technology
,
virtual reality
,
virtuality
"Virtual reality is in the news and in the movies, on TV and in the air. Why is the technology — or the idea — so prevalent precisely now? What does it mean — what does it do — to us? Digital Sensations looks closely at the ways representational forms generated by communication technologies — especially digital/optical virtual technologies — affect the "lived" world.
Virtual reality, or VR, is a technological reproduction of the process of perceiving the real; yet that process is "filtered" through the social realities and embedded cultural assumptions about human bodies, perception, and space held by the technology's creators.
Through critical histories of the technology — of vision, light, space, and embodiment — Ken Hillis traces the various and often contradictory intellectual and metaphysical impulses behind the Western transcendental wish to achieve an ever more perfect copy of the real. Because virtual technologies are new, these histories also address the often unintended and underconsidered consequences — such as alienating new forms of surveillance and commodification — flowing from their rapid dissemination. Current and proposed virtual technologies reflect a Western desire to escape the body Hillis says.
Exploring topics from VR and other, earlier visual technologies, Hillis's penetrating perspective on the cultural power of place and space broadens our view of the interplay between social relations and technology."
Publisher University of Minnesota Press, 1999
Electronic Mediations series, 1
ISBN 0816632502, 9780816632503
271 pages
PDF (updated on 2017-2-10)
Comments (2)
10 March 2009, pht
Filed under
book
| Tags: ·
new media
,
virtual worlds
,
virtuality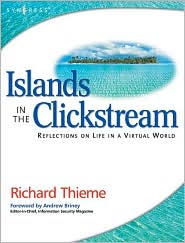 Richard Thieme is one of the most visible commentators on technology and society, appearing often on CNN radio, TechTV, and various other national media outlets. He is also in great demand as a public speaker, delivering his Human Dimension of Technology talk to over 50,000 live audience members each year. Islands in the Clickstream is a single volume "best of Richard Thieme."
CNN called Richard Thieme "a member of the cyber avant-garde". Digital Delirium named him "one of the most creative minds of the digital generation". Now Richard Thieme's wisdom on the social and cultural dimensions of technology is available in a single volume. "Islands in the Clickstream" ranges beyond the impact of technology to spirituality, psychological insight, and social commentary. Now that people are used to living in virtual worlds and move easily between online and offline worlds, they want to connect that experience to the deeper issues of our lives, including spiritual issues. Some examples include "Dreams Engineers Have", "The Crazy Lady on the Treadmill", and "Whistleblowers and Team Players". These essays raise serious questions for thoughtful readers. They have attracted favorable commentary from around the world and a fanatic, almost rabid fan base. This author has become an extremely popular and highly visible talking head. He is a rare "personality" in the otherwise bland world of technology commentators. The book leverages the loyalty of his audience in the same way Bill O'Reilly's "The O'Reilly Factor" and Al Franken's "Lies and the Lying Liars Who Tell Them" do. The book is an easy read intended to provoke thought, discussion and disagreement
Islands in the clickstream: reflections on life in a virtual world
By Richard Thieme, Andrew Briney
Contributor Andrew Briney
Published by Syngress, 2004
ISBN 1931836221, 9781931836227
336 pages
preview
Comment (0)
27 February 2009, pht
Filed under
book
| Tags: ·
code
,
cognitive science
,
new media
,
virtuality
,
visual culture
Bodies in Code explores how our bodies experience and adapt to digital environments. Cyberculture theorists have tended to overlook biological reality when talking about virtual reality, and Mark B. N. Hansen's book shows what they've been missing. Cyberspace is anchored in the body, he argues, and it's the body–not high-tech computer graphics–that allows a person to feel like they are really "moving" through virtual reality. Of course these virtual experiences are also profoundly affecting our very understanding of what it means to live as embodied beings.
Hansen draws upon recent work in visual culture, cognitive science, and new media studies, as well as examples of computer graphics, websites, and new media art, to show how our bodies are in some ways already becoming virtual.
Published by CRC Press, 2006
ISBN 0415970164, 9780415970167
336 pages
PDF (updated on 2013-12-10)
Comment (1)