14 November 2015, dusan
Filed under
book
| Tags: ·
architecture
,
exhibition
,
history of architecture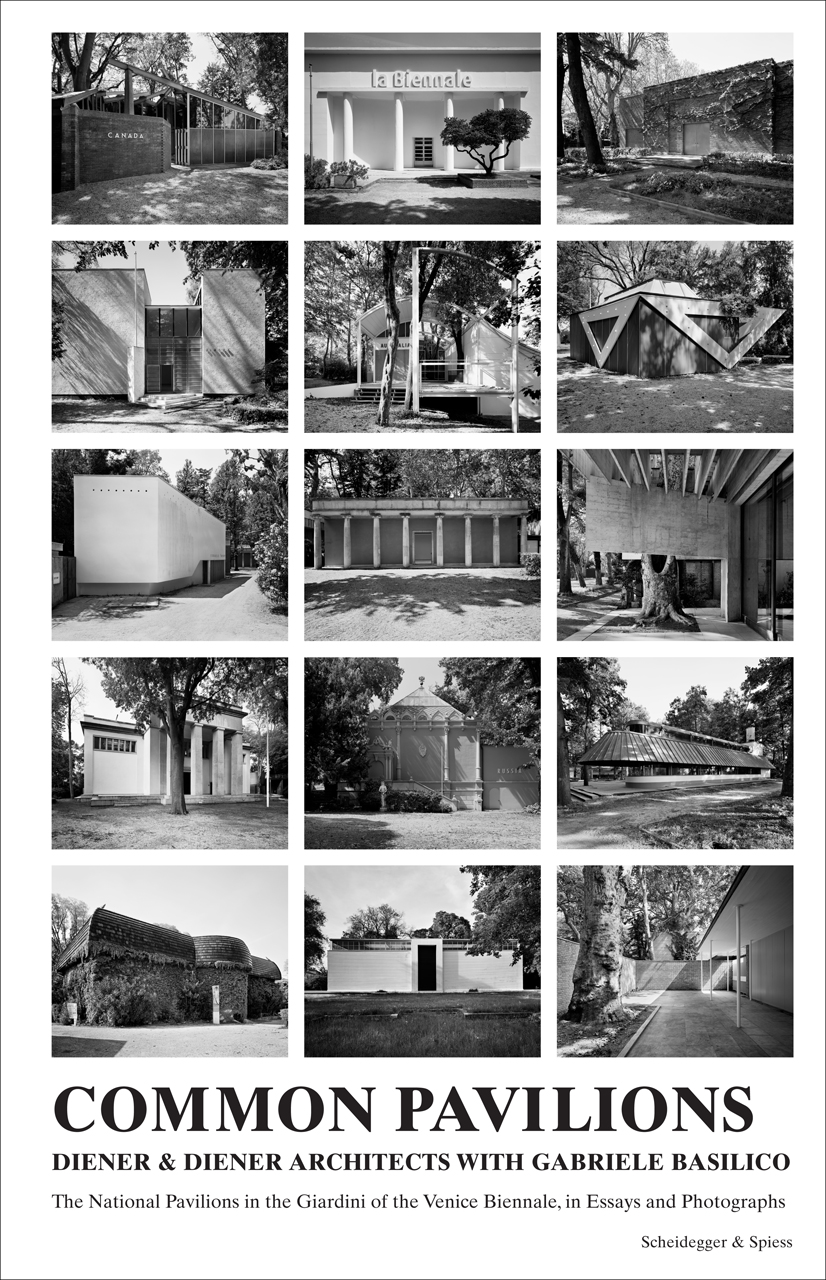 A collection of essays and podcasts by 33 authors on the 29 national pavilions, the setting for both the Art Biennale and the Architecture Biennale in Venice.
"The essays written by architects, historians of art and architecture, artists, and philosophers, discuss the identity of the architecture and its perception in this unique public space. The authors either outline the premises and concepts that underpin the pavilions' form to develop a loose history of ideas; discuss the ways the pavilions have been outfitted over time; or else talk about their own personal engagement with the architecture. Written in the respective national languages of the pavilions, the essays have been translated for the podcast into English and recorded by actors and presenters."
Created for an installation for the 13th Architecture Biennale in Venice 2012 by Diener & Diener Architects, Basel.
Photographs by Gabriele Basilico.
Also published as a book by Scheidegger & Spiess, Zürich, 2013
ISBN 9783858817341
288 pages
Comment (0)
29 June 2015, dusan
Filed under
book
| Tags: ·
architecture
,
city
,
design
,
history of architecture
,
neo-rationalism
,
theory
,
urbanism
"Aldo Rossi, a practicing architect and leader of the Italian architectural movement La Tendenza, is also one of the most influential theorists of the second half of the 20th century. The Architecture of the City is his major work of architectural and urban theory. In part a protest against functionalism and the Modern Movement, in part an attempt to restore the craft of architecture to its position as the only valid object of architectural study, and in part an analysis of the rules and forms of the city's construction, the book has become immensely popular among architects and design students."
First published as L'architettura della città, Padova: Marsilio, 1966.
English edition
Introduction by Peter Eisenman
Translation by Diane Ghirardo and Joan Ockman
Revised for the American Edition by Aldo Rossi and Peter Eisenman
Publisher Graham Foundation for Advanced Studies in the Fine Arts, Chicago; Institute for Architecture and Urban Studies, New York; and MIT Press, 1982
Oppositions Books series
208 pages
Reviews and commentaries: Adolf Max Vogt & Radka Donnell (Journal of the Society of Architectural Historians, 1983), Mary Louise Lobsinger (Journal of Architectural Education, 2006), Farida Nilufar (Protibesh, 2004).
L'architettura della città (Italian, 1966/2006, 137 of 235 pages, 3 MB, via)
Die Architektur der Stadt (German, trans. Arianna Giachi, 1973/1998, 6 MB, added 2015-7-18)
The Architecture of the City (English, trans. Diane Ghirardo and Joan Ockman, 1982, pages 20-27 & 164ff missing, 49 MB; OCR version added 2015-7-5 via Marcell Mars, 46 MB)
A arquitetura da cidade (Brazilian Portuguese, trans. Eduardo Brandão, 1995/2001, 83 MB, added 2015-6-30)
Arhitektura grada (Croatian, trans. Sanja Bingula, 1999, 5 MB, via Sara Renar, updated 2015-6-30; OCR version added 2015-7-5 via Marcell Mars, 20 MB)
Comment (0)
6 May 2015, dusan
Filed under
book
| Tags: ·
1960s
,
1970s
,
1980s
,
1990s
,
architecture
,
city
,
history of architecture
,
manifesto
,
modernism
,
postmodernism
,
theory
,
urbanism
A survey of 120 texts on architecture from the late 1950s up to the mid-1990s, presented in excerpts organised into five sections.
Publisher Academy Editions, Chichester, UK, 1997
ISBN 0471976873
312 pages
via hindmnj
See also Ulrich Conrads (ed.), Programs and Manifestoes on 20th-Century Architecture, 1964/1970.
Comments (2)