22 January 2018, dusan
Filed under
book
| Tags: ·
anthropology
,
authority
,
kinship
,
labour
,
myth
,
politics
,
production
,
ritual
,
royalty
,
sovereignty
,
state
,
violence
"In anthropology as much as in popular imagination, kings are figures of fascination and intrigue, heroes or tyrants in ways presidents and prime ministers can never be. This collection of essays by two of the world's most distinguished anthropologists—David Graeber and Marshall Sahlins—explores what kingship actually is, historically and anthropologically. As they show, kings are symbols for more than just sovereignty: indeed, the study of kingship offers a unique window into fundamental dilemmas concerning the very nature of power, meaning, and the human condition.
Reflecting on issues such as temporality, alterity, and utopia—not to mention the divine, the strange, the numinous, and the bestial—Graeber and Sahlins explore the role of kings as they have existed around the world, from the BaKongo to the Aztec to the Shilluk and beyond. Richly delivered with the wit and sharp analysis characteristic of Graeber and Sahlins, this book opens up new avenues for the anthropological study of this fascinating and ubiquitous political figure."
Publisher HAU Books, Chicago, 2017
Creative Commons BY License
ISBN 0986132500, 9780986132506
xv+536 pages
Comment (0)
25 July 2017, dusan
Filed under
book
| Tags: ·
anthropology
,
avant-garde
,
cinema
,
cybernetics
,
film
,
film history
,
psychology
,
theory
"Ute Holl explores cinema as a cultural technique of trance, unconsciously transforming everyday spatio-temporal perception. The archaeology of experimental and anthropological cinema leads into psycho-physiological laboratories of the 19th century. Through personal and systematic catenations, avant-garde filmmaking is closely linked to the emerging aesthetics of feedback in cybernetic models of the mind developed at the same time. Holl analyses three major fields of experimental and anthropological filmmaking: the Soviet avant-garde with Dziga Vertov and his background in Russian psycho-reflexology and theory of trance; Jean Rouch and his theory of cine-trance and the feed-back; and the New American Cinema with Maya Deren and Gregory Bateson conceptualising the organisation of time, space, movement and feedback trance in anthropological filmmaking."
First published as Kino, Trance und Kybernetik, Brinkmann & Bose, Berlin, 2002.
Translated by Daniel Hendrickson
Publisher Amsterdam University Press
Recursions series
Creative Commons BY-NC 4.0 License
ISBN 9789089646682, 908964668X
326 pages
Comment (0)
21 February 2017, dusan
Filed under
book
| Tags: ·
anthropology
,
imagination
,
ontogeny
,
ontology
,
personhood
,
society
,
world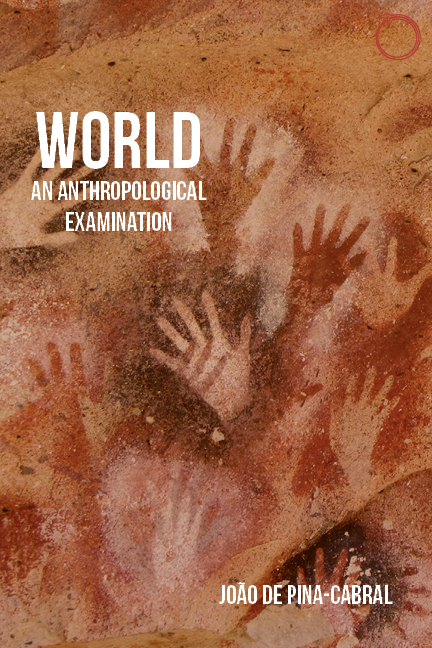 "What do we mean when we refer to world? How does the world relate to the human person? Are the two interdependent and, if so, in what way? What does world mean for an ethnographer or an anthropologist? Much has been said of worlds and worldviews, but do we really know what we mean by these words? Asking these questions and many more, this book explores the conditions of possibility of the ethnographic gesture, and how these shed light on the relationship between humans and the world in the midst of which they find themselves.
As Pina-Cabral shows, recent decades have seen important shifts in the way we relate human thought to human embodiment—the relation between how we think and what we are. The book proposes a novel approach to the human condition: an anthropological outlook that is centered around the notions of personhood and sociality. Through a rich confrontation with ethnographic and historical material, this work contributes to the ongoing task of overcoming the theoretical constraints that have hindered anthropological thinking over the past century."
Publisher HAU Books, Chicago, 2016
Malinowski Monographs series, 1
Open access
ISBN 9780997367508, 0997367504
232 pages
Comment (1)