25 July 2017, dusan
Filed under
book
| Tags: ·
anthropology
,
avant-garde
,
cinema
,
cybernetics
,
film
,
film history
,
psychology
,
theory
"Ute Holl explores cinema as a cultural technique of trance, unconsciously transforming everyday spatio-temporal perception. The archaeology of experimental and anthropological cinema leads into psycho-physiological laboratories of the 19th century. Through personal and systematic catenations, avant-garde filmmaking is closely linked to the emerging aesthetics of feedback in cybernetic models of the mind developed at the same time. Holl analyses three major fields of experimental and anthropological filmmaking: the Soviet avant-garde with Dziga Vertov and his background in Russian psycho-reflexology and theory of trance; Jean Rouch and his theory of cine-trance and the feed-back; and the New American Cinema with Maya Deren and Gregory Bateson conceptualising the organisation of time, space, movement and feedback trance in anthropological filmmaking."
First published as Kino, Trance und Kybernetik, Brinkmann & Bose, Berlin, 2002.
Translated by Daniel Hendrickson
Publisher Amsterdam University Press
Recursions series
Creative Commons BY-NC 4.0 License
ISBN 9789089646682, 908964668X
326 pages
Comment (0)
21 February 2017, dusan
Filed under
book
| Tags: ·
anthropology
,
imagination
,
ontogeny
,
ontology
,
personhood
,
society
,
world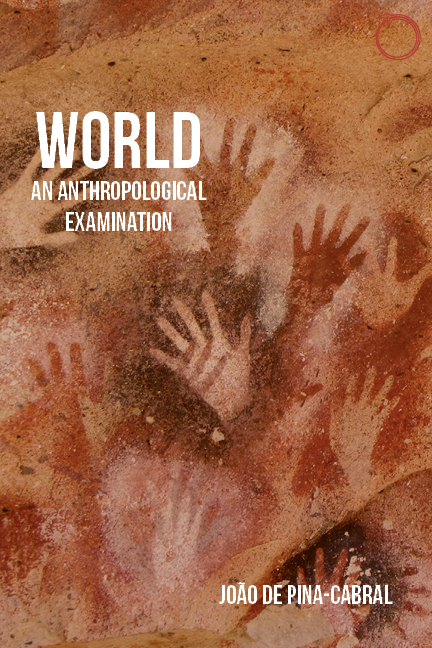 "What do we mean when we refer to world? How does the world relate to the human person? Are the two interdependent and, if so, in what way? What does world mean for an ethnographer or an anthropologist? Much has been said of worlds and worldviews, but do we really know what we mean by these words? Asking these questions and many more, this book explores the conditions of possibility of the ethnographic gesture, and how these shed light on the relationship between humans and the world in the midst of which they find themselves.
As Pina-Cabral shows, recent decades have seen important shifts in the way we relate human thought to human embodiment—the relation between how we think and what we are. The book proposes a novel approach to the human condition: an anthropological outlook that is centered around the notions of personhood and sociality. Through a rich confrontation with ethnographic and historical material, this work contributes to the ongoing task of overcoming the theoretical constraints that have hindered anthropological thinking over the past century."
Publisher HAU Books, Chicago, 2016
Malinowski Monographs series, 1
Open access
ISBN 9780997367508, 0997367504
232 pages
Comment (1)
2 January 2017, dusan
Filed under
book
| Tags: ·
1950s
,
1960s
,
1970s
,
1980s
,
anthropology
,
communism
,
ideology
,
russia
,
socialism
,
soviet union
"Soviet socialism was based on paradoxes that were revealed by the peculiar experience of its collapse. To the people who lived in that system the collapse seemed both completely unexpected and completely unsurprising. At the moment of collapse it suddenly became obvious that Soviet life had always seemed simultaneously eternal and stagnating, vigorous and ailing, bleak and full of promise. Although these characteristics may appear mutually exclusive, in fact they were mutually constitutive. This book explores the paradoxes of Soviet life during the period of 'late socialism' (1960s-1980s) through the eyes of the last Soviet generation.
Focusing on the major transformation of the 1950s at the level of discourse, ideology, language, and ritual, Alexei Yurchak traces the emergence of multiple unanticipated meanings, communities, relations, ideals, and pursuits that this transformation subsequently enabled. His historical, anthropological, and linguistic analysis draws on rich ethnographic material from Late Socialism and the post-Soviet period.
The model of Soviet socialism that emerges provides an alternative to binary accounts that describe that system as a dichotomy of official culture and unofficial culture, the state and the people, public self and private self, truth and lie–and ignore the crucial fact that, for many Soviet citizens, the fundamental values, ideals, and realities of socialism were genuinely important, although they routinely transgressed and reinterpreted the norms and rules of the socialist state."
Publisher Princeton University Press, 2005
In-Formation series
ISBN 0691121168, 9780691121161
x+331 pages
Reviews: Gleb Tsipursky (Soviet and Post-Soviet Review, 2005), Sheila Fitzpatrick (London Review of Books, 2006), John P. Ziker (American Anthropologist, 2006), Luahona Ganguly (Int'l J Communication, 2007), Christian Noack (H-Soz-u-Kult, 2007, DE), Christoph Neidhart (J Cold War Studies, 2010).
Everything Was Forever, Until It Was No More (English, 2005, EPUB)
Eto bylo navsegda, poka ne konchilos (Russian, trans. A. Belyaev, 2014, 15 MB)
Comment (0)