31 March 2010, pht
Filed under
book
| Tags: ·
afrofuturism
,
anarchitecture
,
electronic music
,
philosophy
,
sound recording
Sound can be deployed to produce discomfort, express a threat, or create an ambience of fear or dread—to produce a bad vibe. Sonic weapons of this sort include the "psychoacoustic correction" aimed at Panama strongman Manuel Noriega by the U.S. Army and at the Branch Davidians in Waco by the FBI, sonic booms (or "sound bombs") over the Gaza strip, and high frequency rat repellants used against teenagers in malls. At the same time, artists and musicians generate intense frequencies in the search for new aesthetic experiences and new ways of mobilizing bodies in rhythm. In Sonic Warfare, Steve Goodman explores these uses of acoustic force and how they affect populations.
Most theoretical discussions of sound and music cultures in relationship to power, Goodman argues, have a missing dimension: the politics of frequency. Goodman supplies this by drawing a speculative diagram of sonic forces, investigating the deployment of sound systems in the modulation of affect. Traversing philosophy, science, fiction, aesthetics, and popular culture, he maps a (dis)continuum of vibrational force, encompassing police and military research into acoustic means of crowd control, the corporate deployment of sonic branding, and the intense sonic encounters of sound art and music culture.
Goodman concludes with speculations on the not yet heard—the concept of unsound, which relates to both the peripheries of auditory perception and the unactualized nexus of rhythms and frequencies within audible bandwidths.
Publisher    MIT Press, 2009
ISBN    0262013479, 9780262013475
Length    240 pages
review (Geeta Dayal, rhizome.org)
review (Kodwo Eshun, The Wire) (PDF)
review (weirdvibrations.com)
Download (removed at the request of the author)
Comment (1)
30 March 2010, dusan
Filed under
book
| Tags: ·
critique
,
culture
,
filesharing
,
free culture
,
internet
,
intersubjectivity
,
open source
,
self
,
software
,
subjectivity
,
technological singularity
,
technology
,
web 2.0
Jaron Lanier, a Silicon Valley visionary since the 1980s, was among the first to predict the revolutionary changes the World Wide Web would bring to commerce and culture. Now, in his first book, written more than two decades after the web was created, Lanier offers this provocative and cautionary look at the way it is transforming our lives for better and for worse.
The current design and function of the web have become so familiar that it is easy to forget that they grew out of programming decisions made decades ago. The web's first designers made crucial choices (such as making one's presence anonymous) that have had enormous—and often unintended—consequences. What's more, these designs quickly became "locked in," a permanent part of the web's very structure.
Lanier discusses the technical and cultural problems that can grow out of poorly considered digital design and warns that our financial markets and sites like Wikipedia, Facebook, and Twitter are elevating the "wisdom" of mobs and computer algorithms over the intelligence and judgment of individuals.
Lanier also shows:
How 1960s antigovernment paranoia influenced the design of the online world and enabled trolling and trivialization in online discourse.
How file sharing is killing the artistic middle class.
How a belief in a technological "rapture" motivates some of the most influential technologists.
Why a new humanistic technology is necessary.
Controversial and fascinating, You Are Not a Gadget is a deeply felt defense of the individual from an author uniquely qualified to comment on the way technology interacts with our culture.
Publisher Knopf, 2010
ISBN 0307269647, 9780307269645
224 pages
review (Adam Thierer, Technology Liberation Front)
review (Clive Thompson, Bookforum)
author (incl. web resources related to the book)
publisher
google books
PDF (updated on 2012-7-15)
PDF (EPUB; added on 2012-7-15)
Comments (3)
29 March 2010, dusan
Filed under
book
| Tags: ·
economy
,
globalisation
,
identity
,
information society
,
network culture
,
networks
,
politics
,
social movements
,
technology
,
terrorism
,
women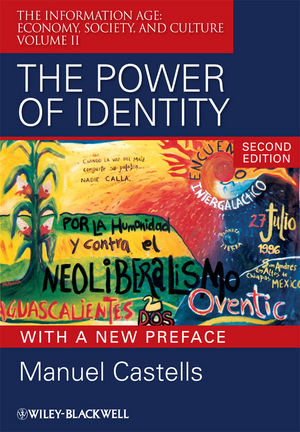 In this second volume of The Information Age trilogy, with an extensive new preface following the recent global economic crisis, Manuel Castells deals with the social, political, and cultural dynamics associated with the technological transformation of our societies and with the globalization of the economy.
* Extensive new preface examines how dramatic recent events have transformed the socio-political landscape of our world
* Applies Castells' hypotheses to contemporary issues such as Al Qaeda and global terrorist networks, American unilateralism and the crisis of political legitimacy throughout the world
* A brilliant account of social, cultural, and political conflict and struggle all over the world
* Analyzes the importance of cultural, religious, and national identity as sources of meaning for people, and its implications for social movement
* Throws new light on the dynamics of global and local change
Publisher John Wiley and Sons, 2009
Information Age Series, Manuel Castells
ISBN 1405196874, 9781405196871
Length 584 pages
Comment (0)