31 March 2016, dusan
Filed under
book
| Tags: ·
code
,
copyright
,
hacking
,
hacktivism
,
intellectual property
,
internet
,
internet activism
,
open access
,
web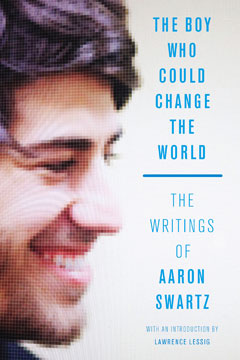 "The writings of the computer genius and Internet hacktivist whose tragic suicide shook the world
In January 2013, Aaron Swartz, under arrest and threatened with thirty-five years' imprisonment, committed suicide. He was twenty-six. But in his short life he had changed the world: reshaping the Internet, questioning our assumptions about intellectual property, and creating some of the tools we use in our daily online lives. He was also a leading critic of the politics of the Web.
In this collection of his writings that spans over a decade, Swartz displays his passion for and in-depth knowledge of intellectual property, copyright, and the architecture of the Internet. The Boy Who Could Change the World contains the life's work of one of the most original minds of our time."
With an Introduction by Lawrence Lessig
Publisher The New Press, New York/London, 2015
ISBN 162097066X, 9781620970669
368 pages
See also MIT prosecution report.
Comment (0)