8 May 2019, dusan
Filed under
book
| Tags: ·
copyright
,
intellectual property
,
open access
,
publishing
"Whose Book is it Anyway? is a provocative collection of essays that opens out the copyright debate to questions of open access, ethics, and creativity. It includes views – such as artist's perspectives, writer's perspectives, feminist, and international perspectives – that are too often marginalized or elided altogether.
The diverse range of contributors take various approaches, from the scholarly and the essayistic to the graphic, to explore the future of publishing based on their experiences as publishers, artists, writers and academics. Considering issues such as intellectual property, copyright and comics, digital publishing and remixing, and what it means (not) to say one is an author, these vibrant essays urge us to view central aspects of writing and publishing in a new light."
With contributions by John Cayley and Daniel C. Howe, Louise O'Hare, Janneke Adema, Michael Bhaskar, Alison Baverstock, Sophie Rochester, Smita Kheria, Ronan Deazley and Jason Mathis, Danuta Kean, J. R. Carpenter, Eva Weinmayr, Muriel Swijghuisen Reigersberg, Joseph F. Turcotte, Simon Groth, Janis Jefferies, Laurence Kaye, Richard Mollet, Rachel Calder, and Max Whitby.
Publisher OpenBook Publishers, Cambridge, UK, 2019
Creative Commons BY 4.0 International License
ISBN 9781783746491, 1783746491
xiv+442 pages
Comment (0)
7 July 2017, dusan
Filed under
thesis
| Tags: ·
agonism
,
copyright
,
cultural production
,
digital culture
,
floss
,
free culture
,
intellectual property
,
law
,
network culture
,
open source
,
social movements
"In partial response to the inability of intellectual property laws to adapt to data-sharing over computer networks, several initiatives have proposed techno-legal alternatives to encourage the free circulation and transformation of digital works. These alternatives have shaped part of contemporary digital culture for more than three decades and are today often associated with the "free culture" movement. The different strands of this movement are essentially derived from a narrower concept of software freedom developed in the 1980s, and which is enforced within free and open source software (FLOSS) communities. This principle was the first significant effort to articulate a reusable techno-legal template to work around the limitations of intellectual property laws. It also offered a vision of network culture where community participation and sharing was structural.
From alternate tools and workflow systems, artist-run servers, network publishing experiments, open data and design lobbies, cooperative and collaborative frameworks, but also novel copyright licensing used by both non-profit organisations and for-profit corporations, the impact on cultural production of practices developed in relation to the ideas of FLOSS has been both influential and broadly applied. However, if it is true that FLOSS has indeed succeeded in becoming a theoretical and practical model for the transformation of art and culture, the question remains at which ways it has provided such a model, how it has been effectively appropriated across different groups and contexts and in what ways these overlap or differ.
Using the image of the sandbox, where code becomes a constituent device for different communities to experience varying ideologies and practices, this dissertation aims to map the consequent levels of divergence in interpreting and appropriating the free and open source techno-legal template. This thesis identifies the paradoxes, conflicts, and contradictions within free culture discourse. It explores the tensions between the wish to provide a theoretical universal definition of cultural freedom, and the disorderly reality of its practice and interpretation. However, despite the different layers of cultural diffusion, appropriation, misunderstanding and miscommunication that together form the fabric of free culture, this dissertation argues that, even though feared, fought, and criticised, these issues are not signs of dysfunctionality but are instead the evidence of cultural diversity within free culture. This dissertation will also demonstrate that conflicts between and within these sandboxes create a democratic process that permits the constant transformation of the free and open source discourse, and is therefore something that should be embraced and neither resisted nor substituted for a universal approach to cultural production."
Includes an anthology of proto-free culture licenses, 1998-2002 (pp 382-452).
PhD Dissertation
Supervisor: Matthew Fuller
Publisher Centre of Cultural Studies, Goldsmiths, University of London, 2017
xxxviii+486 pages
via author
Comment (0)
31 March 2016, dusan
Filed under
book
| Tags: ·
code
,
copyright
,
hacking
,
hacktivism
,
intellectual property
,
internet
,
internet activism
,
open access
,
web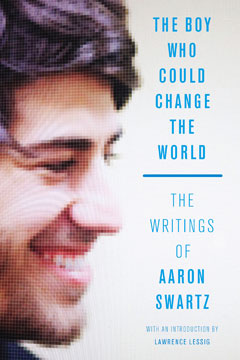 "The writings of the computer genius and Internet hacktivist whose tragic suicide shook the world
In January 2013, Aaron Swartz, under arrest and threatened with thirty-five years' imprisonment, committed suicide. He was twenty-six. But in his short life he had changed the world: reshaping the Internet, questioning our assumptions about intellectual property, and creating some of the tools we use in our daily online lives. He was also a leading critic of the politics of the Web.
In this collection of his writings that spans over a decade, Swartz displays his passion for and in-depth knowledge of intellectual property, copyright, and the architecture of the Internet. The Boy Who Could Change the World contains the life's work of one of the most original minds of our time."
With an Introduction by Lawrence Lessig
Publisher The New Press, New York/London, 2015
ISBN 162097066X, 9781620970669
368 pages
See also MIT prosecution report.
Comment (0)