18 August 2017, dusan
Filed under
book
| Tags: ·
archive
,
archiving
,
cultural memory
,
digital media
,
diy
,
fan culture
,
fiction
,
internet
,
preservation
"The task of archiving was once entrusted only to museums, libraries, and other institutions that acted as repositories of culture in material form. But with the rise of digital networked media, a multitude of self-designated archivists—fans, pirates, hackers—have become practitioners of cultural preservation on the Internet. These nonprofessional archivists have democratized cultural memory, building freely accessible online archives of whatever content they consider suitable for digital preservation. In Rogue Archives, Abigail De Kosnik examines the practice of archiving in the transition from print to digital media, looking in particular at Internet fan fiction archives.
De Kosnik explains that media users today regard all of mass culture as an archive, from which they can redeploy content for their own creations. Hence, "remix culture" and fan fiction are core genres of digital cultural production. De Kosnik explores, among other things, the anticanonical archiving styles of Internet preservationists; the volunteer labor of online archiving; how fan archives serve women and queer users as cultural resources; archivists' efforts to attract racially and sexually diverse content; and how digital archives adhere to the logics of performance more than the logics of print. She also considers the similarities and differences among free culture, free software, and fan communities, and uses digital humanities tools to quantify and visualize the size, user base, and rate of growth of several online fan archives."
Publisher MIT Press, 2016
ISBN 9780262034661, 0262034662
x+430 pages
Reviews: Jan Baetens (Leonardo, 2017), Amanda Gilroy (PopMatters, 2017), Ludi Price (2016), Silvia Bertolotti (DigiCult, 2016).
Interview with author: Henry Jenkins (2016), Christina Yang (TDR, 2019).
HTML (added on 2020-3-13)
PDF (10 MB, updated on 2020-3-12)
Academia.edu (added on 2020-3-13)
Comment (0)
27 November 2009, pht
Filed under
book
| Tags: ·
convergence
,
fan culture
,
media franchise
,
participation
,
popculture
,
transmedia storytelling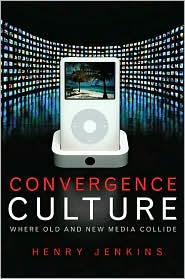 Convergence Culture maps a new territory: where old and new media intersect, where grassroots and corporate media collide, where the power of the media producer and the power of the consumer interact in unpredictable ways.
Henry Jenkins, one of America's most respected media analysts, delves beneath the new media hype to uncover the important cultural transformations that are taking place as media converge. He takes us into the secret world of Survivor Spoilers, where avid internet users pool their knowledge to unearth the show's secrets before they are revealed on the air. He introduces us to young Harry Potter fans who are writing their own Hogwarts tales while executives at Warner Brothers struggle for control of their franchise. He shows us how The Matrix has pushed transmedia storytelling to new levels, creating a fictional world where consumers track down bits of the story across multiple media channels.Jenkins argues that struggles over convergence will redefine the face of American popular culture. Industry leaders see opportunities to direct content across many channels to increase revenue and broaden markets. At the same time, consumers envision a liberated public sphere, free of network controls, in a decentralized media environment. Sometimes corporate and grassroots efforts reinforce each other, creating closer, more rewarding relations between media producers and consumers. Sometimes these two forces are at war.
Jenkins provides a riveting introduction to the world where every story gets told and every brand gets sold across multiple media platforms. He explains the cultural shift that is occurring as consumers fight for control across disparate channels, changing the way we do business, elect our leaders, and educate our children.
Publisher NYU Press, 2006
ISBN 0814742815, 9780814742815
Length 308 pages
publisher
google books
preview
Comment (0)