25 December 2010, dusan
Filed under
journal
| Tags: ·
artistic research
,
contemporary art
,
design
,
fashion design
,
visual culture
MaHKUzine is an international publication in both hard copy and website form. The journal embarks on a topical discourse in artistic research implying visual art, editorial design, fashion design, interior design, and public space design. The magazine offers symposia reports, articles by guest lecturers, staff and research reports.
Editorial board: Henk Slager (General Editor), Annette W. Balkema, Arjen Mulder
Publisher: Utrecht School of the Arts, Faculty of Visual Arts and Design
MaHKUzine#1 Is the medium still the message?, summer 2006, PDF
MaHKUzine#2 Critical Methodologies, winter 2007, PDF
MaHKUzine#3 Design Solutions, summer 2007, Issuu
MaHKUzine#4 The Politics of Design, winter 2008, Issuu
MaHKUzine#5 A Certain MA-ness, summer 2008, Issuu
MaHKUzine#6 Spatial Practices, winter 2009, Issuu
MaHKUzine#7 Nameless Science, summer 2009, PDF
MaHKUzine#8 Epistemic Encounters, winter 2010, PDF
MaHKUzine#9 Doing Dissemination, summer 2010, PDF
MaHKUzine#10, winter 2011, Issuu
Comments (2)
14 November 2010, dusan
Filed under
thesis
| Tags: ·
diy
,
fashion
,
fashion design
,
hacktivism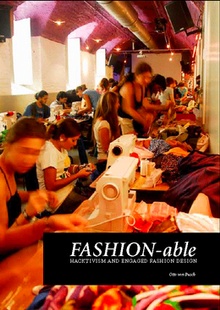 The thesis Fashion-able consists of a series of extensive projects which aims to explore a new designer role for fashion. It is a role that experiment with how fashion can be reverse engineered, hacked, tuned and shared among many participants as a form of social activism. This social design practice can be called the hacktivism of fashion. It is an engaged and collective process of enablement, creative resistance and DIY practice, where a community share methods and experiences on how to expand action spaces and develop new forms of craftsmanship. In this practice, the designer engages participants to reform fashion from a phenomenon of dictations and anxiety to a collective experience of empowerment, in other words, to make them become fashion-able.
Keywords: Fashion Design, Hacktivism, Hacking, Heresy, Small Change, Professional-Amateurs, Do-it-yourself, Action Spaces, Artistic Research, Practice-based research
Doctor of Philosophy in Design thesis
Publisher School of Design and Crafts, Faculty of Fine, Applied and Performing Arts, University of Gothenburg, 2008
Art monitor series
ISBN 919777572X, 9789197775724
271 pages
Comment (0)