21 February 2017, dusan
Filed under
book
| Tags: ·
anthropology
,
imagination
,
ontogeny
,
ontology
,
personhood
,
society
,
world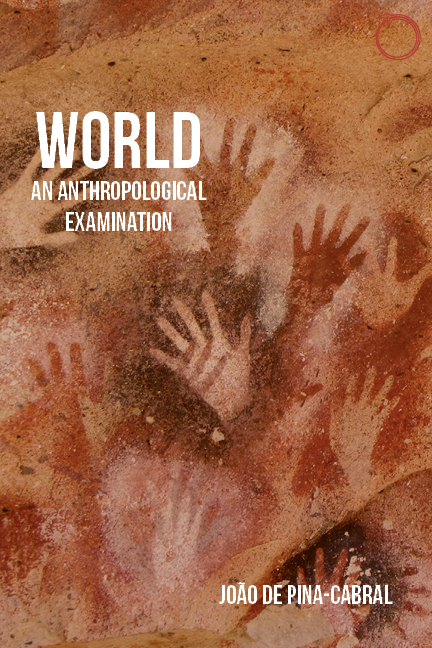 "What do we mean when we refer to world? How does the world relate to the human person? Are the two interdependent and, if so, in what way? What does world mean for an ethnographer or an anthropologist? Much has been said of worlds and worldviews, but do we really know what we mean by these words? Asking these questions and many more, this book explores the conditions of possibility of the ethnographic gesture, and how these shed light on the relationship between humans and the world in the midst of which they find themselves.
As Pina-Cabral shows, recent decades have seen important shifts in the way we relate human thought to human embodiment—the relation between how we think and what we are. The book proposes a novel approach to the human condition: an anthropological outlook that is centered around the notions of personhood and sociality. Through a rich confrontation with ethnographic and historical material, this work contributes to the ongoing task of overcoming the theoretical constraints that have hindered anthropological thinking over the past century."
Publisher HAU Books, Chicago, 2016
Malinowski Monographs series, 1
Open access
ISBN 9780997367508, 0997367504
232 pages
Comment (1)
25 January 2012, dusan
Filed under
book
| Tags: ·
autopoiesis
,
biology
,
cognition
,
life
,
machine
,
ontogeny
,
philosophy of science
,
science
,
teleonomy
What makes a living system a living system? What kind of biological phenomenon is the phenomenon of cognition? These two questions have been frequently considered, but, in this volume, the authors consider them as concrete biological questions. Their analysis is bold and provocative, for the authors have constructed a systematic theoretical biology which attempts to define living systems not as objects of observation and description, nor even as interacting systems, but as self-contained unities whose only reference is to themselves. The consequence of their investigations and of their living systems as self-making, self-referring autonomous unities, is that they discovered that the two questions have a common answer: living systems are cognitive systems, and living as a process is a process of cognition. The result of their investigations is a completely new perspective of biological (human) phenomena. During the investigations, it was found that a complete linguistic description pertaining to the 'organization of the living' was lacking and, in fact, was hampering the reporting of results. Hence, the authors have coined the word 'autopoiesis' to replace the expression 'circular organization'. Autopoiesis conveys, by itself, the central feature of the organization of the living, which is autonomy.
Spanish edition
Translated by Carmen Cienfuegos
Publisher Editorial Universitaria, Santiago de Chile, 1973
English edition
With a preface by Stafford Beer
Publisher D. Reidel Publishing Company, Dordrecht/Boston/London, 1980
Boston Studies in the Philosophy of Science, Volume 42
ISBN 9027710163
147 pages
Google books (EN)
De máquinas y seres vivos: Una teoría sobre la organización biológica (Spanish, trans. Carmen Cienfuegos, 4th ed., 1973/1998, updated on 2013-3-21)
Autopoiesis and Cognition: The Realization of the Living (English, 1980, updated on 2012-7-18)
See also Varela, Maturana, Uribe, Autopoiesis, 1974. (added on 2014-6-2)
Comment (0)