24 July 2012, dusan
Filed under
book
| Tags: ·
canada
,
community
,
community informatics
,
networks
,
smart communities
,
wireless networks
Connecting Canadians represents the work of the Community Research Alliance for Community Innovation and Networking (CRACIN), the largest national and international research effort to examine the burgeoning field of community informatics, a cross-disciplinary approach to the mobilization of information and communications technologies (ICT) for community change.
Funded for four years by the SSHRC's Initiative for the New Economy, CRACIN systematically studied a wide variety of Canadian community ICT initiatives, bringing perspectives from sociology, computer science, critical theory, women's studies, library and information sciences, and management studies to bear on networking technologies. A comprehensive thematic account of this in-depth research, Connecting Canadians will be an essential resource for NGOs, governments, the private sector, and multilateral agencies across the globe.
Edited by Andrew Clement, Michael Gurstein, Graham Longford, Marita Moll, and Leslie Regan Shade
Publisher Athabasca University Press, July 2012
ISBN 1926836049, 9781926836041
Creative Commons License, Attribution–Noncommercial–No Derivative Works 2.5 Canada
518 pages
review (Yijun Gao, First Monday)
Comment (0)
15 November 2011, dusan
Filed under
book
| Tags: ·
locative media
,
network culture
,
networks
,
technology
,
wireless networks
How has wirelessness—being connected to objects and infrastructures without knowing exactly how or where—become a key form of contemporary experience? Stretching across routers, smart phones, netbooks, cities, towers, Guangzhou workshops, service agreements, toys, and states, wireless technologies have brought with them sensations of change, proximity, movement, and divergence. In Wirelessness, Adrian Mackenzie draws on philosophical techniques from a century ago to make sense of this most contemporary postnetwork condition. The radical empiricism associated with the pragmatist philosopher William James, Mackenzie argues, offers fresh ways for matching the disordered flow of wireless networks, meshes, patches, and connections with felt sensations.
For Mackenzie, entanglements with things, gadgets, infrastructures, and services—tendencies, fleeting nuances, and peripheral shades of often barely registered feeling that cannot be easily codified, symbolized, or quantified—mark the experience of wirelessness, and this links directly to James's expanded conception of experience. "Wirelessness" designates a tendency to make network connections in different times and places using these devices and services. Equally, it embodies a sensibility attuned to the proliferation of devices and services that carry information through radio signals. Above all, it means heightened awareness of ongoing change and movement associated with networks, infrastructures, location, and information.
The experience of wirelessness spans several strands of media-technological change, and Mackenzie moves from wireless cities through signals, devices, networks, maps, and products, to the global belief in the expansion of wireless worlds.
Publisher MIT Press, 2010
ISBN 0262014645, 9780262014649
255 pages
PDF (updated on 2012-7-15)
Comment (1)
24 August 2011, dusan
Filed under
book
| Tags: ·
cctv
,
computing
,
dumpster diving
,
encryption
,
hacking
,
security
,
social engineering
,
wardriving
,
wireless networks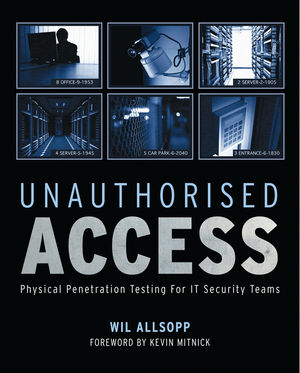 The first guide to planning and performing a physical penetration test on your computer's security
Most IT security teams concentrate on keeping networks and systems safe from attacks from the outside-but what if your attacker was on the inside? While nearly all IT teams perform a variety of network and application penetration testing procedures, an audit and test of the physical location has not been as prevalent. IT teams are now increasingly requesting physical penetration tests, but there is little available in terms of training. The goal of the test is to demonstrate any deficiencies in operating procedures concerning physical security.
Featuring a Foreword written by world-renowned hacker Kevin D. Mitnick and lead author of The Art of Intrusion and The Art of Deception, this book is the first guide to planning and performing a physical penetration test. Inside, IT security expert Wil Allsopp guides you through the entire process from gathering intelligence, getting inside, dealing with threats, staying hidden (often in plain sight), and getting access to networks and data.
– Teaches IT security teams how to break into their own facility in order to defend against such attacks, which is often overlooked by IT security teams but is of critical importance
– Deals with intelligence gathering, such as getting access building blueprints and satellite imagery, hacking security cameras, planting bugs, and eavesdropping on security channels
– Includes safeguards for consultants paid to probe facilities unbeknown to staff
– Covers preparing the report and presenting it to management
In order to defend data, you need to think like a thief-let Unauthorised Access show you how to get inside.
Publisher John Wiley and Sons, 2009
ISBN 0470747617, 9780470747612
302 pages
Comment (0)