26 April 2017, dusan
Filed under
poetry
| Tags: ·
code
,
code poetry
"Mez Breeze developed, and continues to write in, the hybrid language mezangelle. Her unorthodox use of language demonstrates the ubiquity of digitization and the intersections of the digital and the real that are increasingly common in 21st century life. As well as creating static literary texts using mezangelle, Breeze also creates multi-disciplinary multimedia works online, and participates in online happenings that blur the lines between on- and off-line behavior."
Publisher Traumawien, Vienna, 2011
ISBN 9783950291094
327 pages
Reviews: Andy Carruthers (Southerly, 2012), Rob Myers (Furtherfield, 2012).
Comment (0)
13 October 2016, dusan
Filed under
handbook
| Tags: ·
art
,
artificial intelligence
,
code
,
deep learning
,
generativity
,
language
,
machine learning
,
neural networks
,
programming
,
software
,
style
"This is an in-development book about machine learning. The first draft is expected early-2017. Some chapters are nearly complete, some are very rough, some are just stubs.
Guides and Demos are being released as we go. Guides are a collection of practical resources for working with machine learning software, including code and tutorials. Demos are are a collection of figures and interactive demos for highlighting important concepts in machine learning, and supplementing the book's materials."
Chapters (HTML)
Guides (HTML, Python)
Demos (HTML, Javascript)
Comment (0)
31 March 2016, dusan
Filed under
book
| Tags: ·
code
,
copyright
,
hacking
,
hacktivism
,
intellectual property
,
internet
,
internet activism
,
open access
,
web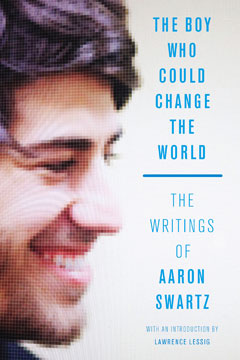 "The writings of the computer genius and Internet hacktivist whose tragic suicide shook the world
In January 2013, Aaron Swartz, under arrest and threatened with thirty-five years' imprisonment, committed suicide. He was twenty-six. But in his short life he had changed the world: reshaping the Internet, questioning our assumptions about intellectual property, and creating some of the tools we use in our daily online lives. He was also a leading critic of the politics of the Web.
In this collection of his writings that spans over a decade, Swartz displays his passion for and in-depth knowledge of intellectual property, copyright, and the architecture of the Internet. The Boy Who Could Change the World contains the life's work of one of the most original minds of our time."
With an Introduction by Lawrence Lessig
Publisher The New Press, New York/London, 2015
ISBN 162097066X, 9781620970669
368 pages
See also MIT prosecution report.
Comment (0)