14 June 2013, dusan
Filed under
book
| Tags: ·
capitalism
,
critique
,
culture
,
democracy
,
eurocentrism
,
europe
,
islam
,
marxism
,
metaphysics
,
modernity
,
political economy
,
religion
,
scholasticism
,
science
,
theory
Since its first publication more than twenty years ago, Eurocentrism has become a classic of radical thought. Written by one of the world's foremost political economists, this original and provocative essay takes on one of the great "ideological deformations" of our time: Eurocentrism. Rejecting the dominant Eurocentric view of world history, which narrowly and incorrectly posits a progression from the Greek and Roman classical world to Christian feudalism and the European capitalist system, Amin presents a sweeping reinterpretation that emphasizes the crucial historical role played by the Arab Islamic world. Throughout the work, Amin addresses a broad set of concerns, ranging from the ideological nature of scholastic metaphysics to the meanings and shortcomings of contemporary Islamic fundamentalism. This second edition contains a new introduction and concluding chapter, both of which make the author's arguments even more compelling.
French edition
Publisher Anthropos-Economica, Paris, 1988
160 pages
English edition
Translated by Russell Moore and James Membrez
First published in 1989
Publisher Monthly Review Press, New York, 2010
ISBN 1583672079, 9781583672075
288 pages
review (Joshua Moufawad-Paul, Marx & Philosophy Review of Books)
publisher (EN)
google books (EN)
L'eurocentrisme: Critique d'une ideologie (French, 1988)
Eurocentrism: Modernity, Religion and Democracy: A Critique of Eurocentrism and Culturalism, alt link (English, trans. Russell Moore and James Membrez, 2nd edition, 1989/2010)
El eurocentrismo: Crítica de una ideología (Spanish, trans. Rosa Cuminsky de Cendrero, 1989)
Comment (0)
26 January 2010, dusan
Filed under
book
| Tags: ·
global village
,
literacy
,
mass media
,
movable type
,
print
,
renaissance
,
scholasticism
,
technology
,
typography
,
writing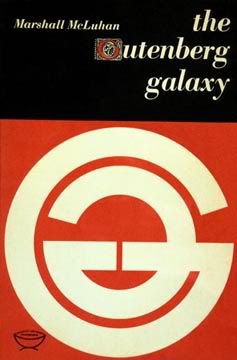 "In this book, McLuhan analyzes the effects of mass media, especially the printing press, on European culture and human consciousness. It popularized the term global village, which refers to the idea that mass communication allows a village-like mindset to apply to the entire world; and Gutenberg Galaxy, which we may regard today to refer to the accumulated body of recorded works of human art and knowledge, especially books.
McLuhan studies the emergence of what he calls Gutenberg Man, the subject produced by the change of consciousness wrought by the advent of the printed book. Apropos of his axiom, "The medium is the message," McLuhan argues that technologies are not simply inventions which people employ but are the means by which people are re-invented. The invention of movable type was the decisive moment in the change from a culture in which all the senses partook of a common interplay to a tyranny of the visual. He also argued that the development of the printing press led to the creation of nationalism, dualism, domination of rationalism, automatisation of scientific research, uniformation and standardisation of culture and alienation of individuals."
Publisher University of Toronto Press, 1962
ISBN 0802060412, 9780802060419
300 pages
The Gutenberg Galaxy (English, updated on 2012-7-8)
A galáxia de Gutenberg (BR-Portuguese, trans. Leônidas Gontigo de Carvalho and Anísio Teixeira, 1972, added on 2017-3-12)
Gutenbergova galaxie (Czech, 2000, added on 2017-3-12)
Comment (0)