14 November 2014, dusan
Filed under
paper
| Tags: ·
anthropology
,
anthropology of sound
,
cybernetics
,
cyborg
,
ethnography
,
hearing
,
immersion
,
listening
,
media
,
noise
,
science
,
sound
,
sound studies
,
transduction
,
water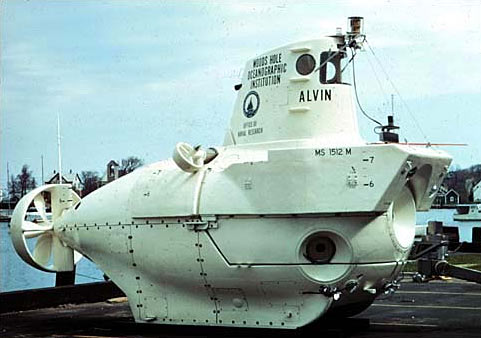 "In this article, I deliver a first-person anthropological report on a dive to the seafloor in the Woods Hole Oceanographic Institution's three-person submersible, Alvin. I examine multiple meanings of immersion: as a descent into liquid, an absorption in activity, and the all-encompassing entry of an anthropologist into a cultural medium. Tuning in to the rhythms of what I call the "submarine cyborg"—"doing anthropology in sound," as advocated by Steven Feld and Donald Brenneis (2004)—I show how interior and exterior soundscapes create a sense of immersion, and I argue that a transductive ethnography can make explicit the technical structures and social practices of sounding, hearing, and listening that support this sense of sonic presence." (Abstract)
Published in American Ethnologist 34(4), 2007, pp 621-641.
PDF (from the author, updated on 2016-8-25)
Comment (0)
24 October 2013, dusan
Filed under
book
| Tags: ·
biotechnology
,
body
,
machine
,
speed
,
technology
,
time
,
transduction
"What do the patented data structures embedded deep in the code of an online computer game or the massively complicated architecture of the latest supercomputer used to simulate nuclear explosions have to do with culture, life or meaning? Why does technology attract such wildly differing responses – from fervour to boredom to distrust?
Transductions explores these questions by drawing on science and technology studies, contemporary critical theory and corporeal theory. An exploration of complex technologies such as online computer games, genomic databases and the global positioning system reveals how the borders between bodies and machines, between what counts as social and what counts as technical, are no less diverse and complicated than culture itself. Indeed, they constitute a crucial dimension of contemporary culture. Through a critical analysis of the widely accepted notion that technology speeds everything up, Transductions argues that there are only ever differences in speed. The question for us now is how can such differences be represented?"
Publisher Continuum, London and New York, 2002
Technologies: Studies in Culture & Theory series
ISBN 082645884X
231 pages
Review (Kim Toffoletti, Culture Machine)
PDF (no OCR)
See also Fibreculture Journal's issue on "Trans" (2011) co-edited by Mackenzie.
Comment (0)
19 May 2013, dusan
Filed under
book
| Tags: ·
ontology
,
philosophy
,
philosophy of technology
,
technical object
,
technology
,
transduction
,
transindividual
"The first sustained exploration of Simondon's work to be published in English.
This collection of essays, including one by Simondon himself, outlines the central tenets of Simondon's thought, the implication of his thought for numerous disciplines and his relationship to other thinkers such as Heidegger, Deleuze and Canguilhem.
Complete with a contextualising introduction and a glossary of technical terms, it offers an entry point to this important thinker and will appeal to people working in philosophy, philosophy of science, media studies, social theory and political philosophy.
Gilbert Simondon's work has recently come to prominence in America and around the Anglophone world, having been of great importance in France for many years."
Contributors: Miguel de Beistegui, Elizabeth Grosz, Anne Sauvagnargues, Bernard Stiegler, Igor Krtolica, Jean-Hugues Barthélémy, Yves Michaud, Sean Bowden, Dominique Lecourt, and the editors.
Edited by Arne De Boever, Alex Murray, Jon Roffe, Ashley Woodward
Publisher Edinburgh University Press, 2012
ISBN 074864525X, 9780748645251
236 pages
via lastobserver
review (Wil Kaiser, H-Net Reviews)
Comments (3)