11 March 2014, dusan
Filed under
book
| Tags: ·
capitalism
,
colonialism
,
comics
,
cultural criticism
,
entertainment
,
ideology
,
literary criticism
,
marxism
,
political theory
,
politics
How to Read Donald Duck is a Marxist political analysis by Ariel Dorfman and Armand Mattelart on what they perceive is cultural imperialism in popular entertainment, published in Chile in 1972. Written in the form of essay (or, in the authors' words, a "decolonization manual"), the book is an analysis of mass literature, specifically the Disney comics published for the Latin American market. It is one of the first social studies of entertainment and the leisure industry from a political-ideological angle, and the book deals extensively with the political role of children's literature. (from Wikipedia)
First published by Ediciones Universitarias de Valparaíso, Chile, 1972
First published in English in 1975
Translated and with an Introduction by David Kunzle
With Appendix by John Shelton Lawrence
Publisher International General, New York, 1991 (Fourth printing)
ISBN 0884770370
119 pages
via Quaxo Coricopat
An interview with Mattelart in which he shortly discusses the book (2008, in English)
2012 project for appropriation of the book (includes its online edition)
Para leer al Pato Donald. Comunicación de masa y colonialismo (Spanish, 18th ed., 1972/1979)
How to Read Donald Duck: Imperialist Ideology in the Disney Comic (English, trans. David Kunzle, 1975/1991, 10 MB, updated 2015-5-10)
Para ler o Pato Donald: comunicação de massa e colonialismo (Portuguese, trans. Álvaro de Moya, 2nd ed., 1976/1980)
Emperyalist Kültür Sanayii ve Walt Disney: Vakvak Amca Nasıl Okunmalı? (Turkish, trans. Atilla Aksoy, 1977)
Comments (3)
4 October 2013, dusan
Filed under
book
| Tags: ·
entertainment
,
software
This book is for all people who are forced to use UNIX. It is a humorous book–pure entertainment–that maintains that UNIX is a computer virus with a user interface. It features letters from the thousands posted on the Internet's "UNIX-Haters" mailing list. It is not a computer handbook, tutorial, or reference. It is a self-help book that will let readers know they are not alone.
Foreword by Donald Norman, Apple Computers
Anti-Foreword by Dennis Ritchie, AT&T Bell Labs
Illustrations by John Klossner
Publisher IDG Books, San Mateo, CA, June 1994
ISBN 1568842031, 9781568842035
329 pages
Review (Andrew Kuchling, Linux Gazette, 1997)
The Unix Hater's Handbook, Reconsidered (Eric S. Raymond, 2008)
A comment from Daniel Weise
Unix Haters page, Another version
Editor
Wikipedia
Comment (0)
31 July 2009, dusan
Filed under
book
| Tags: ·
culture
,
entertainment
,
mass media
,
media ecology
,
show business
,
social criticism
,
sociology
,
television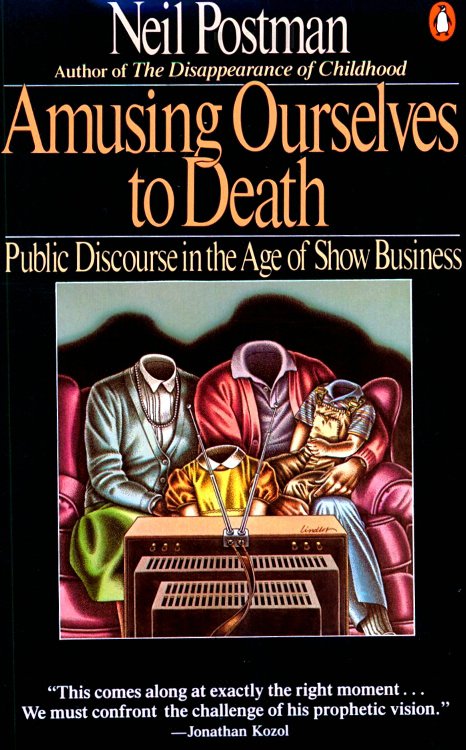 The book originated with Postman's delivering a talk to the Frankfurt Book Fair in 1984. He was participating in a panel on Orwell's 1984 and the contemporary world. In the introduction to his book Postman said that reality was reflected more by Aldous Huxley's Brave New World where the public was oppressed by pleasure than Orwell's 1984 where they were oppressed by pain.
Television has conditioned us to tolerate visually entertaining material measured out in spoonfuls of time, to the detriment of rational public discourse and reasoned public affairs. Neil Postman alerts us to the real and present dangers of this state of affairs, and offers compelling suggestions as to how to withstand the media onslaught. Before we hand over politics, education, religion, and journalism to the show business demands of the television age, we must recognize the ways in which the media shape our lives and the ways we can, in turn, shape them to serve out highest goals.
Publisher Penguin Books, 1985
ISBN 0140094385, 9780140094381
Length 184 pages
More info (wikipedia)
More info (publisher)
More info (google books)
Comment (0)