4 November 2014, dusan
Filed under
book
| Tags: ·
appropriation
,
conceptual art
,
conceptual writing
,
flarf
,
language
,
literary theory
,
literature
,
poetics
,
poetry
,
sampling
,
writing
"What is conceptual writing, how does it differ from Conceptual Art, what are some of the dominant forms of conceptualism, where does an impure or hybrid conceptualism fit in, what about the baroque, what about the prosody of procedure, what are the links between appropriation and conceptual writing, how does conceptual writing rely on a new way of reading, a "thinkership" that can shift the focus away from the text and onto the concept, what is the relationship between conceptual writing and technology or information culture, and why has this tendency taken hold in the poetry community now? What follows, then, is a collection of notes, aphorisms, quotes and inquiries on conceptual writing. We have co-authored this text through correspondence, shared reading interests, and similar explorations. Notes on Conceptualisms is far from a definitive text, and much closer to a primer, a purposefully incomplete starting place, where readers, hopefully, can enter so as to participate."
Publisher Ugly Duckling Presse, Brooklyn, NY, 2009
Open Access
ISBN 9781933254463
78 pages
Commentary: Ron Silliman (2009).
Reviews: Thom Donovan (BOMB, 2009), Christopher Higgs (Chapbook Review, 2009), Karla Kelsey (Octopus Magazine, c2010), Ken L. Walker (Coldfront, 2010), John Bloomberg-Rissman (Galatea Resurrects 16, 2011), Alethia Alfonso (Notas, 2011, ES), Joel Kopplin & Kurt Milberger (HTML Giant, 2013).
Dialogue between Vanessa Place and Tania Ørum (Jacket2, 2012)
Comment (0)
8 April 2013, dusan
Filed under
book
| Tags: ·
1970s
,
1980s
,
mashup
,
music
,
music history
,
music theory
,
remix
,
sampling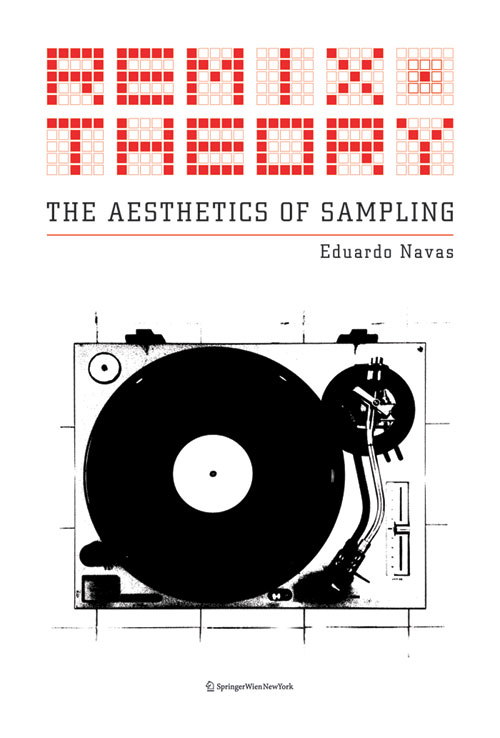 "Remix Theory: The Aesthetics of Sampling is an analysis of Remix in art, music, and new media. Navas argues that Remix, as a form of discourse, affects culture in ways that go beyond the basic recombination of material. His investigation locates the roots of Remix in early forms of mechanical reproduction, in seven stages, beginning in the nineteenth century with the development of the photo camera and the phonograph, leading to contemporary remix culture. This book places particular emphasis on the rise of Remix in music during the 1970s and '80s in relation to art and media at the beginning of the twenty-first Century. Navas argues that Remix is a type of binder, a cultural glue—a virus—that informs and supports contemporary culture."
Publisher Springer, Vienna, 2012
ISBN 3709112621, 9783709112625
230 pages
RemixTheory.net (from the author)
Publisher
Comment (0)
25 May 2012, dusan
Filed under
book
| Tags: ·
acta
,
copyright
,
drm
,
eu
,
filesharing
,
free speech
,
information society
,
piracy
,
pirate party
,
politics
,
sampling
Legalized file sharing, shorter protection times for the commercial copyright monopoly, free sampling and a ban on DRM.
These are the main points of the proposal for copyright reform that the Pirate Party is advocating and which the Greens/EFA group in the European Parliament adopted as its group position in September 2011.
This is a constructive alternative to the controversial ACTA agreement and to the criminalization of the entire generation of youths. This booklet explains why such a reform is both necessary and sustainable and will benefit both citizens and artists.
Published by Pirate MEP Christian Engström with support from the Greens/EFA-group in the European Parliament, 17 April 2012
Creative Commons CC0 license
ISBN 9781471671784
108 pages
commentary (Ernesto, TorrentFreak.com)
discussion (Slashdot.org)
authors
authors (facebook)
author
author
PDF (PDF)
PDF (ODT)
PDF (RTF)
PDF (DOC)
PDF (MOBI)
PDF (EPUB)
View online (Issuu.com)
Comment (0)