1 December 2015, dusan
Filed under
book
| Tags: ·
copy
,
copyright
,
filesharing
,
intellectual property
,
piracy
,
warez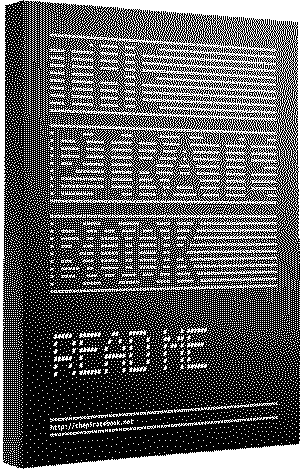 "A compilation of stories about sharing, distributing and experiencing cultural contents outside the boundaries of local economies, politics, or laws.
This publication offers a broad view on media piracy as well as a variety of comparative perspectives on recent issues and historical facts regarding piracy. It contains a compilation of texts on grass-roots situations whose stories describe strategies developed to share, distribute and experience cultural content outside of the confines of local economies, politics or laws. These stories recount the experiences of individuals from India, Cuba, Brazil, Mexico, Mali and China. The book is structured in four parts and begins with a collection of stories on piracy dating back to the invention of the printing press and expanding to broader issues (historical & modern anti-piracy technologies, geographically-specific issues, as well as the rules of the Warez scene, its charters, structure and visual culture…)."
Contributions by Jota Izquierdo, Christopher Kirkley, Marie Lechner, Pedro Mizukami, Ernesto Oroza, Clément Renaud, Ishita Tiwary, Ernesto Van der Sar, Michaël Zumstein.
Publisher Aksioma – Institute for Contemporary Art, Ljubljana, 2015
Copyleft
[240] pages
PDF (56 MB)
Comment (0)
7 March 2014, dusan
Filed under
book
| Tags: ·
animal
,
appropriation
,
art
,
computing
,
copy
,
death
,
fashion
,
film
,
gender
,
genetics
,
history
,
imitation
,
japan
,
kids
,
language
,
machine
,
memory
,
music
,
photography
,
piracy
,
property
,
reenactment
,
reproduction
,
sculpture
,
simulation
,
slavery
,
statistics
,
surgery
,
technology
,
theatre
,
time
,
war
The Culture of the Copy is an unprecedented attempt to make sense of the Western fascination with replicas, duplicates, and twins. In a work that is breathtaking in its synthetic and critical achievements, Hillel Schwartz charts the repercussions of our entanglement with copies of all kinds, whose presence alternately sustains and overwhelms us. Through intriguing, and at times humorous, historical analysis and case studies in contemporary culture, Schwartz investigates a stunning array of simulacra—counterfeits, decoys, mannequins, and portraits; ditto marks, genetic cloning, war games, and camouflage; instant replays, digital imaging, parrots, and photocopies; wax museums, apes, and art forgeries, not to mention the very notion of the Real McCoy. Working through a range of theories on biological, mechanical, and electronic repro­duction, Schwartz questions the modern esteem for authenticity and uniqueness. The Culture of the Copy shows how the ethical dilemmas central to so many fields of endeavor have become inseparable from our pursuit of copies—of the natural world, of our own creations, indeed of our very selves.
This updated edition takes notice of recent shifts in thought with regard to such issues as biological cloning, conjoined twins, copyright, digital reproduction, and multiple personality disorder. At once abbreviated and refined, it will be of interest to anyone concerned with proglems of authenticity, identity, and originality.
First published in 1996
Publisher Zone Books, New York, 2013
ISBN 1935408453, 9781935408451
480 pages
Review (Terence Hawkes, London Review of Books, 1997)
Review (Francis Kane, The New York Times, 1997)
Review (Todd Gitlin, Los Angeles Times, 1997)
Download (removed on 2014-3-20 upon request of the publisher)
Comment (1)
7 November 2011, dusan
Filed under
book
| Tags: ·
algorithm
,
architecture
,
copy
,
history of architecture
,
postmodern
,
technology
"Digital technologies have already changed architecture—architectural form as well as the way architecture is designed and built. But if the digital is a revolution, which tradition is being revolutionized? If it is a "paradigm shift," which architectural paradigm is shifting? In The Alphabet and the Algorithm, Mario Carpo points to one key practice of modernity: the making of identical copies. Carpo highlights two instances of identicality crucial to the shaping of modern architecture: in the fifteenth century, Leon Battista Alberti's invention of architectural design—the humanistic idea of building as the identical replication of an author's intentions; and, in the nineteenth and twentieth centuries, the mass production of identical copies from mechanical master models, matrixes, imprints, or molds.
The modern power of the identical, Carpo argues, has come to an end with the rise of digital technologies. All that is digital is variable. In architecture, this means the end of notational limitations, of mechanical standardization, and possibly of the Albertian, authorial way of building by design. Charting the rise and fall of the paradigm of identicality, Carpo compares new forms of postindustrial, digital craftsmanship to traditional hand-making, and to the cultures and technologies of variations that existed before the coming of machine-made, identical copies. Carpo reviews the unfolding of digitally based design and construction from the early 1990s to the present, and suggests a new agenda for architecture in an age of variable media, generic objects, and participatory authorship."
Publisher MIT Press, 2011
Writing Architecture series
ISBN 0262515806, 9780262515801
190 pages
Reviews: Aureli (Architectural Review, 2011), Djalali (2011), Abrahamson (2011), Diamanti (2012), Allen (Reviews in Cultural Theory, 2014).
PDF (updated on 2020-4-23)
Comments (2)