28 April 2012, dusan
Filed under
book
| Tags: ·
electroacoustic music
,
electronic music
,
music
,
music history
,
netherlands
,
radio art
"Het boek Elektronische muziek werd in 1981/82 geschreven door F. C. Weiland en C.A.G.M. Tempelaars op verzoek van de uitgeverij Bohn, Scheltema en Holkema. Beide auteurs doceerden aan het Instituut voor Sonologie van de Rijksuniversiteit Utrecht, maar het boek was gericht op de belangstellende en professionele buitenwereld in het Nederlandse taalgebied. Het eerste deel, van Frits Weiland, beschrijft de muzikale en historische aspecten van de elektronische muziek, met bijzondere aandacht voor de Nederlandse situatie. Het tweede deel, van Stan Tempelaars, behandelt de signaaltheoretische aspecten. Het boek was destijds uitverkocht en niet herdrukt, en is dus al lange tijd niet meer verkrijgbaar.
Inmiddels heeft de elektronische muziek een grote ontwikkeling doorgemaakt, en is er hernieuwde belangstelling voor de geschiedenis van dit genre. Frits Weiland en NEAR/MCN wilden daarom deze historische tekst in digitale vorm toegankelijk maken. Hiermee wordt deze geschiedenis van de Nederlandse elektronische muziek voor een nieuwe generatie ontsloten. Wij hopen dat dit als inspiratie kan dienen voor nieuwe historische overzichten en verschillende interpretaties van oude en nieuwe Nederlandse elektro-akoestische muziek.
Voor deze digitale versie is zoveel mogelijk de oorspronkelijke tekst van het boek aangehouden; bij de tekstopmaak zijn kleine veranderingen aangebracht, met een nieuwe paginering. Deze tekst wordt ter inzage aangeboden; het is niet toegestaan om deze te vermenigvuldigen of in andere vormen openbaar te maken.
Voor citaten en verwijzingen moet de oorspronkelijke uitgave van Bohn, Scheltema en Holkema gebruikt worden (ISBN 90 313 0531 6); deze is te raadplegen bij Muziek Centrum Nederland (Amsterdam) of bij (universiteits-)bibliotheken."
Originally published by Bohn, Scheltema & Holkema, Utrecht/Antwerpen, 1982
Publisher Muziek Centrum Nederland, Amsterdam, 2008
120 pages
PDF (13 MB, updated on 2016-12-23)
Comment (0)
28 April 2012, dusan
Filed under
thesis
| Tags: ·
1960s
,
art
,
art history
,
computer art
,
cybernetics
,
dance
,
electronic art
,
electronic music
,
expanded cinema
,
intermedia
,
intermedia art
,
media art
,
performance art
,
systems theory
,
technology
,
theatre
"Die in der Geschichte der Künste als Neoavantgarde der frühen 1960er Jahre bezeichneten Entwicklungen der Grenzüberschreitung und Prozessorientierung bilden in exemplarischen Analysen das Zentrum des Gegenstandsbereichs dieser Arbeit. Sie umfassen sowohl die grundlegenden Innovationen, die – von John Cages Ideen und Konzeptionen angestoßen – die Arbeit der Komponisten/Performer der Live Electronic Music prägten, wie die Erweiterung der künstlerischen Materialien und Veränderung der Verfahren der Bildenden Kunst seit Happening und Fluxus. Sie umfassen die minimalistischen Verschiebungen des Verständnisses von Körper-Bewegung und Objekten in der Tanz/Performance vor allem der New Yorker Judson Dance Group und die performative Erforschung der Grundlagen von Kino/Film-Wahrnehmung im Expanded Cinema.
An diesen drei Bereichen wird eine doppelte historische Bewegung aufgezeigt: zum einen die des Durchstreichens, Verschiebens, Ersetzens konventionalisierter Parameter und Wert-Hierarchien; zum anderen eine durch den Entwicklungsschub technischer Medien und deren Auswirkungen auf Gesellschaft und Wahrnehmung angestoßenes Interesse an der Verbindung von Kunst und Medien. Eine wichtige Schnittstelle dieser Entwicklungen manifestiert sich in den Aufführungen der inzwischen legendären Nine Evenings: Theatre and Engineering, die 1966 in New York stattfanden. Die Analyse dieses Ereignisses, des Arbeitsprozesses, der ihm vorausging und an dem in gleicher Weise Künstler und Ingenieure beteiligt waren, wie der einzelnen Performances bildet einen Ausgangspunkt dieser Untersuchung.
Dass Systemtheorie und Kybernetik als Denkmodelle für die Kunstproduktion erschlossen werden sollten, lässt sich nicht nur anhand der Manifestationen dieses Ereignisses zeigen, sondern auch anhand der Analyse zeitgenössischer Diskurse im Kunstfeld nachweisen. Live Electronic Arts heißt in diesem Zusammenhang: das unmittelbar (aktuell) vorgeführte Handeln mit technischen Medien in einer performativen Anordnung. Diese Verbindung wird von den Künstlern selbst als Mensch/Maschine-Kopplung verstanden – der Konstruktionsprozess wird zu einem wesentlichen Bestandteil künstlerischer Strategie. Der Einbezug zeitgenössischer Technologien wird so nicht als Frage nach der Neuartigkeit von Darstellungsmodi relevant, sondern als eine Frage nach Prozessen des Regelns, Steuerns und der Signalübertragung (control&communication) – also nach den Prozessen, die das Agieren mit ihnen strukturieren.
Ausgehend von den Nine Evenings und der an ihnen beteiligten Künstler – Musiker, Tänzer und Choreographen sowie Bildende Künstler und Filmemacher – widmet sich die Arbeit in detaillierter Untersuchung den Versuchsreihen der einzelnen Künstler, denen die experimentellen Performances zugerechnet werden können. Sie zeigt für alle drei Bereiche – Live Electronic Music, die performativen Praktiken der Judson Dance Group und Expanded Cinema – unter welchen Bedingungen, ein Interesse und die Arbeit an der Kopplung von Körper-Bewegung und technischen Systemen entstand."
Live Electronic Arts und Intermedia: die 1960er Jahre. Über den Zusammenhang von Performance und zeitgenössischen Technologien, kybernetischen Modellen und minimalistischen Kunst-Strategien
Habilitationsschrift an der Fakultät für Geschichte, Kunst- und Orientwissenschaften der Universität Leipzig
Betreuer: Theo Girshausen
Gutachter: Inge Baxmann, Siegfried Zielinski
284 pages
Comment (0)
28 April 2012, dusan
Filed under
book
| Tags: ·
data
,
data journalism
,
journalism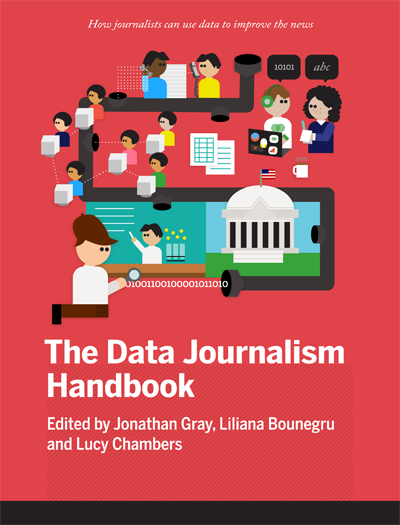 This collaborative book coordinated by the European Journalism Centre and the Open Knowledge Foundation aims to answer questions like: Where can I find data? How can I request data? What tools can I use? How can I find stories in data? How can I make data journalism sustainable? It had a very successful start at the Mozilla Festival in London in November 2011 with fifty contributors, including data journalists and professors from the New York Times, Financial Times, Guardian, Chicago Tribune, Medill School of Journalism, and Cronkite School of Journalism. Additional contributors now include leading developers, analysts, FOI experts, and other practitioners from places like the BBC, City University London, Scraperwiki, Zeit Online, and many others.
Edited by Jonathan Gray, Lucy Chambers, Liliana Bounegru
Publisher O'Reilly Media, May 2012
Creative Commons Attribution-ShareAlike license
View online (HTML)
Comment (0)