21 April 2020, dusan
Filed under
book
| Tags: ·
aesthetics
,
animal
,
chance
,
ecology
,
environment
,
ethics
,
forest
,
individuation
,
nature
,
philosophy
,
plants
,
subject
,
territory
,
theory
,
virtuality
"Bleak Joys develops an understanding of complex entities and processes—from plant roots to forests to ecological damage and its calculation—as aesthetic. It is also a book about "bad" things, such as anguish and devastation, which relate to the ecological and technical but are also constitutive of politics, the ethical, and the formation of subjects.
Avidly interdisciplinary, Bleak Joys draws on scientific work in plant sciences, computing, and cybernetics, as well as mathematics, literature, and art in ways that are not merely illustrative of but foundational to our understanding of ecological aesthetics and the condition in which the posthumanities are being forged. It places the sensory world of plants next to the generalized and nonlinear infrastructure of irresolvability—the economics of indifference up against the question of how to make a home on Planet Earth in a condition of damaged ecologies. Crosscutting chapters on devastation, anguish, irresolvability, luck, plant, and home create a vivid and multifaceted approach that is as remarkable for its humor as for its scholarly complexity.
Engaging with Deleuze, Guattari, and Bakhtin, among others, Bleak Joys captures the modes of crises that constitute our present ecological and political condition, and reckons with the means by which they are not simply aesthetically known but aesthetically manifest."
Publisher University of Minnesota Press, Minneapolis, 2019
Posthumanities series, 53
ISBN 9781517905521, 1517905524
xxviii+192 pages
PDF (6 MB)
Comment (0)
23 May 2009, dusan
Filed under
book
| Tags: ·
activism
,
art
,
biotechnology
,
control society
,
copyright
,
cultural resistance
,
tactical media
,
transgenics
,
virtuality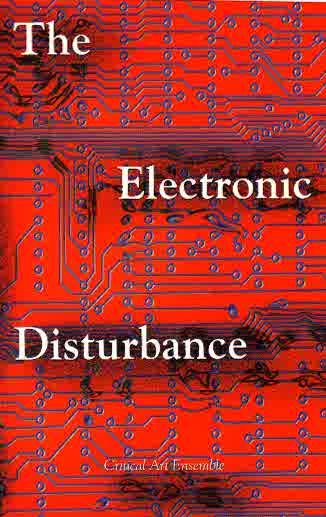 The Electronic Disturbance (1994)
The Critical Arts Ensemble is a virtual collective. This collection of essays and short pieces examines the changing rules of cultural and political resistance: "The current technological revolution has created a new geography of power relations — as data, human beings confront an authoritarial impulse that thrives on absence. As a virtual geography of cognizance and action, resistance must assert itself in electronic space."
Publisher Autonomedia, May 1994
ISBN 1570270066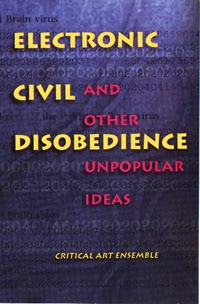 Electronic Civil Disobedience and Other Unpopular Ideas (1997)
In the age of global, nomadic capital, the CAE attempts to lay the foundation for the growth of nomadic resistance. Utilizing the tools of its enemy, the CAE suggests that a new cultural and political resistance is possible. Fusing a situationist-influenced concept of contestational art, an understanding of the parallel nature of cultural and political action borrowed from Gramsci, and a hacker's deep understanding of how new technology functions, ECD is a launch point for debating the nature of power and resistance in the information age.
Publisher Autonomedia, May 1997
ISBN 9781570270567
commentary (Stefan Wray)
authors
publisher
PDF
View online, cont. (La Résistance électronique et autres idées impopulaires, French)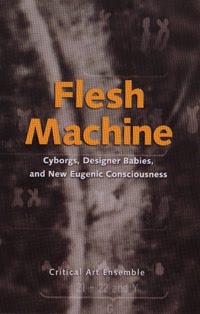 Flesh Machine: Cyborgs, Designer Babies, and New Eugenic Consciousness (1998)
Having elsewhere explored the dimensions of social and political control in electronic culture, the Critical Arts Ensemble here turns full frontal towards the body, arguing that utopian promises of virtuality are simple distractions from the real project: the deployment of biotechnologies upon the bodies of citizens in the service of the transnational order.
Publisher Autonomedia, March 1998
ISBN 9781570270673
PDF
PDF (Η μηχανή της σάρκας: Εκδόσεις των ξένων, Greek)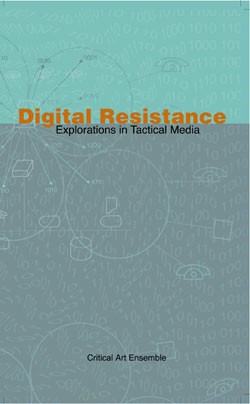 Digital Resistance: Explorations in Tactical Media (2000)
Essays in cultural politics and technology from the collective authors of Electronic Disturbance, Electronic Civil Disobedience and Flesh Machine. Chapters in this new volume include "Electronic Civil Disobedience and the Public Sphere," "The Mythology of Terrorism on the Net," "The Promissory Rhetoric of Biotechnology," "Observations on Collective Cultural Action," "Recombinant Theater and Digital Resistance," "Contestational Robotics," "Children as Tactical Media Participants," and "The Financial Advantages of Anti-Copyright."
Publisher Autonomedia, April 2000
ISBN 1570271194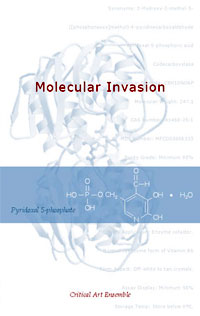 The Molecular Invasion (2002)
Having exhausted the possibilities for geographic colonial expansion, as well as reaching the fiscal limitations of virtual space, capital begins its invasion of a new frontier — organic molecular space. The Critical Art Ensemble began mapping this development in Flesh Machine (Autonomedia, 1998) by examining the use of reproductive technologies and their promise for achieving an intensified degree of control over worker and citizen. The Molecular Invasion acts as a companion to this first book by mapping the politics of transgenics, and offering a model for the creation of a contestational biology, as well as providing direct interventionist tactics for the disruption of this new assault on the organic realm.
Publisher Autonomedia, April 2002
ISBN 1570271380, 9781570271380
140 pages
PDF
PDF (Molekularna invazija, Croatian)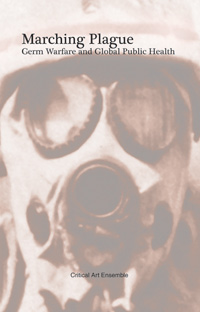 Marching Plague: Germ Warfare and Global Public Health (2006)
The sixth Critical Art Ensemble book offers a radical reframing of the rhetoric surrounding germ warfare. After refuting the idea that massive biological attack is a probable future occurrence, the book goes on to argue that biological weapons programs primarily serve the economic interests of the military-security complex, squandering resources needed to fight the massive loss of life each year from emerging infectious diseases. The book also includes two appendices examining the case of the U.S. Justice Department against Steve Kurtz, for which the original manuscript of the book was seized in the state's investigation.
Publisher Autonomedia, 2006
ISBN 157027178X, 9781570271786
148 pages
review (Randall Packer)
authors
publisher
Comments (2)
17 April 2009, pht
Filed under
book
| Tags: ·
computer games
,
game studies
,
gaming
,
mmorpg
,
virtuality
World of Warcraft is the world's most popular massively multiplayer online game (MMOG), with (as of March 2007) more than eight million active subscribers across Europe, North America, Asia, and Australia, who play the game an astonishing average of twenty hours a week. This book examines the complexity of World of Warcraft from a variety of perspectives, exploring the cultural and social implications of the proliferation of ever more complex digital gameworlds. The contributors have immersed themselves in the World of Warcraft universe, spending hundreds of hours as players (leading guilds and raids, exploring moneymaking possibilities in the in-game auction house, playing different factions, races, and classes), conducting interviews, and studying the game design–as created by Blizzard Entertainment, the game's developer, and as modified by player-created user interfaces. The analyses they offer are based on both the firsthand experience of being a resident of Azeroth and the data they have gathered and interpreted.
The contributors examine the ways that gameworlds reflect the real world–exploring such topics as World of Warcraft as a "capitalist fairytale" and the game's construction of gender; the cohesiveness of the gameworld in terms of geography, mythology, narrative, and the treatment of death as a temporary state; aspects of play, including "deviant strategies" perhaps not in line with the intentions of the designers; and character–both players' identification with their characters and the game's culture of naming characters. The varied perspectives of the contributors–who come from such fields as game studies, textual analysis, gender studies, and postcolonial studies–reflect the breadth and vitality of current interest in MMOGs.
Contributors: Espen Aarseth, Hilde G. Corneliussen, Charlotte Hagstrom, Lisbeth Klastrup, Tanya Krzywinska, Jessica Langer, Esther MacCallum-Stewart, Torill Elvira Mortensen, Jill Walker Rettberg, Scott Rettberg, T. L. Taylor, Ragnhild Tronstad.
Published by MIT Press, 2008
ISBN 0262033704, 9780262033701
336 pages
Comment (0)